Marius Suzanne OMI – One of the first disciples of St. Eugene
Oblate History
Originally Published on the website of the Polish Oblates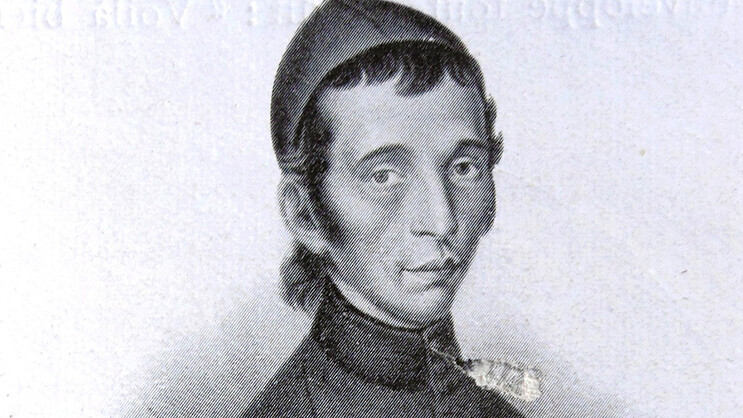 He was connected with the Founder by an unusual thread of family attachment.
On January 31, 1829, Fr. Marius Suzanne OMI dies. I am 29 years old. For several months, the Founder hardly leaves the missionary who is dying of tuberculosis. This is one of Eugene's first companions, his student. De Mazenod kept in his prayer book for more than thirty years a picture of Mary, who kissed Suzanne before he died.
This is how the Founder recalled this moment:
A wonderful picture for a sad and inconsolable father. Twice he was kissed with gentle affection by our beloved father Suzanne just moments before his holy death (January 31, 1829).

A heavenly smile was on his face as he looked at me immediately after that to thank me. He energetically expressed everything that the blessed wanted to express through his love and trust in his good Mother, our powerful patron Mary.

O my son, your features as well as your virtues have been imprinted in my soul in indelible letters! I will love you even though you will not be there, as I loved you when you were the happiness of my life. What am I saying, absent! Are you not constantly alive in my heart, present in my mind?

My beloved son, who will comfort me after your loss? The memory of what you've done for me? Unfortunately! I don't have you anymore! Think of the heavenly happiness you already enjoy? So call me to you to share them with you.

The one you call everything after God.
Charles Joseph Eugene de Mazenod OMI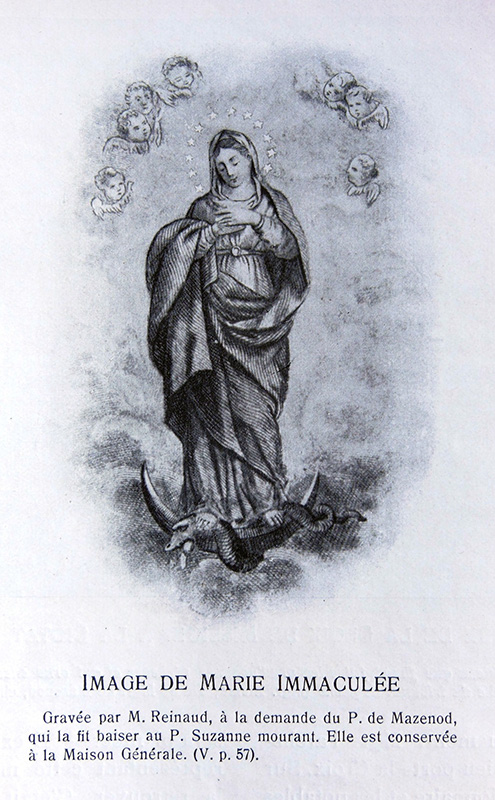 Helper of the first Oblate parish missions
Marie-Jacques Antoine Suzanne was from Aix-en-Provence. He was born on February 2, 1799. He came from a rich, large family. He completed his primary education in Fuveau , where his father's estate was located. He took his first Latin lessons from his parish priest, Fr. Jean Flayol ,who publicly testified to his faith and priesthood during the bloody persecution of the French Revolution. Later, the priest became one of the vicars general of Bishop Fortunato de Mazenod. Surely the testimony of this priest was important in the life of young Suzanne.
He continues his studies at the Minor Seminary in Aix. His teacher is Father Henryk Tempier OMI – a close friend and companion of St. Eugene. Tempier remembers Suzanne as a diligent student with impeccable behavior.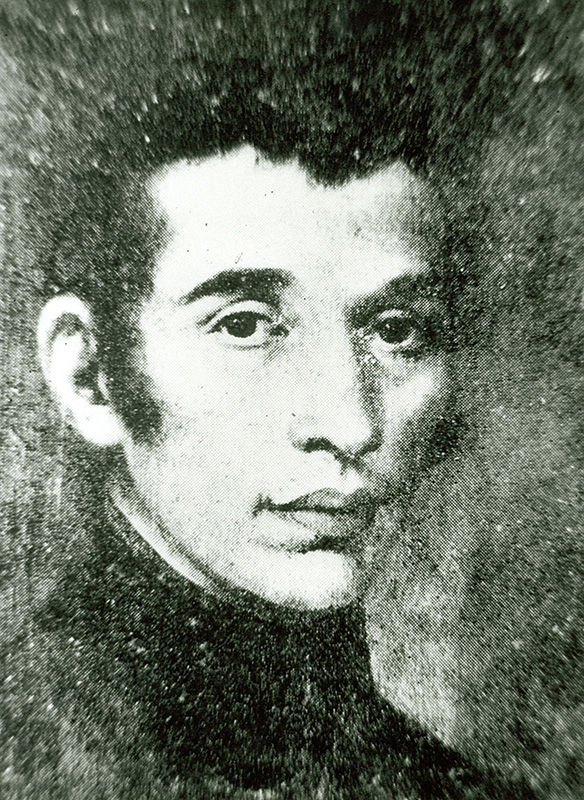 In the fall of 1816, young Suzanne was to begin his studies at the Major Seminary of Aix, but due to the holy missions in his home parish, he extended his leave. They were preached by priests from the young order of the Missionaries of Provence: Eugene de Mazenod, Henri Tempier, Pierre-Nolasque Mie and Sébastien Deblieu. The missionaries entrusted the future seminarian with the task of teaching the catechism of men, visiting people who did not participate in mission services, leading the singing and taking care of the decor of the main mission ceremonies. The parish mission in Fuveau changed Suzanne's life. He decided to follow the Missionaries of Provence.
A cleric who had an impact on the fate of the Congregation
Suzanne's admission to the missionary community of Aix dates from October 14, 1816. On January 21, 1917, he takes the habit, and on November 1, 1818, he makes his first religious vows. This is an important moment for the entire Congregation. The first community of the Missionaries of Provence did not make religious profession. Eugene's desire to join religious vows encountered resistance from his first collaborators. During the first General Chapter in 1818, members of the community who were not yet priests were allowed to vote. Marius Suzanne was among them. Their voices prevailed, and on November 1, 1818, the Missionaries of Provence for the first time vowed: chastity, obedience and perseverance.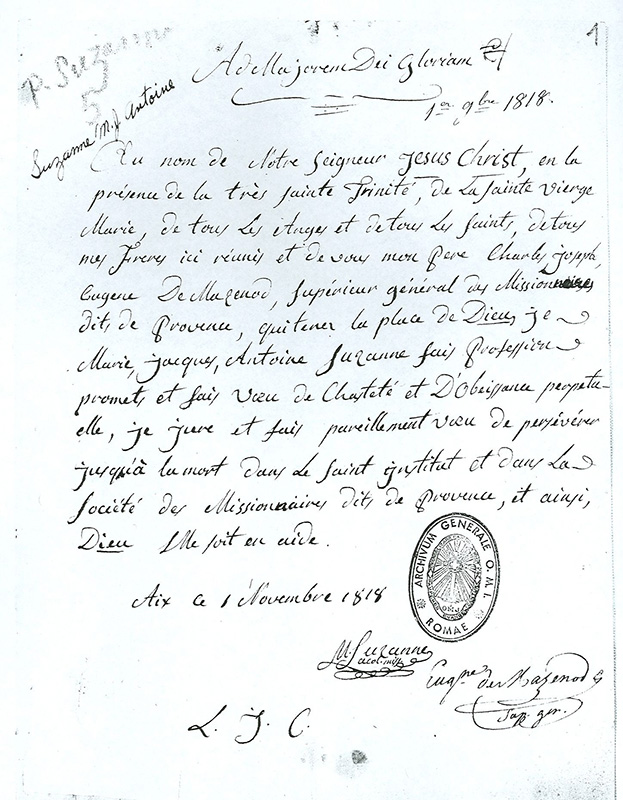 Suzanne was very eloquent during his seminary studies. He enjoyed reading and benefited greatly from it for his formation. As a cleric, he participated in parish missions preached by the Missionaries of Provence. He was ordained a priest on September 22, 1822.
People's missionary
No sooner had he been ordained than he showed his power as an apostolic worker in parish missions. In the ministry of preaching or in the ministry of reconciliation, wherever he worked, he evoked a very lively response and led many to conversion. There is something in his speech, in his actions, in his person, something so attractive that people turn to him with complete trust – wrote Bishop Jacques Jeancard OMI about Father Suzanne.
The main activity of the young priest was preaching parish missions:
Fuveau in September 1822.
Tallard, January 5 to February 2, 1823.
Lauzet, from February 9 to March 9, 1823.
Luka in September and October 1823 with the Jesuits.
Entrevaux, November 1823.
Ventabren, January 11 to February 8, 1824.
Monclar, February 1824. 10. Veynes, Lent 1824.
Entrevaux, May 1824 (follow-up mission).
Nice, early July 1824.
Allauch, November and December 1824.
Saint-Bonnet, January 1825.
Luka, May 1825 (retreat for 580 prisoners).
Allauch, November and December 1825 (supplementary mission).
Ribiers, December 1825 and January 1826.
Nîmes, January and February 1826 with missionaries from France.
Aubagne, February 17 to March 21, 1826.
Aix, March and April 1826 (Fr. Suzanne with 10 priests and scholastic brothers).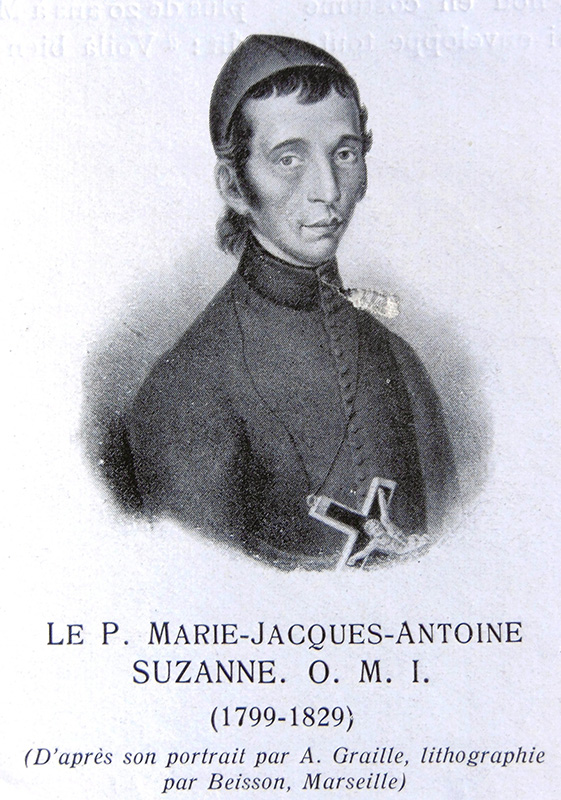 The constant preaching of the word of God without a moment's respite gave rise to suspicions about the carelessness of the young Oblate. Repeatedly tried to intervene St. Eugene. Tuberculosis appeared. Despite attempts to limit Suzanne's father's activity, repeated overloading of the body aggravated the disease. He died on January 31 at two in the afternoon. He rests in an Oblate tomb in the Aix cemetery.
Father Alexandre Audo OMI described in a few words the relationship between St. Eugene with Father Suzanne:
Suzanne's young father was to Father de Mazenod what Joseph was to the Patriarch James and Saint John was to our Lord: a beloved son. Moreover, he saw in him an alter ego, the man who embodied the future of the Congregation, the one who would assume its role to rule the religious family. Suzanne's father was worthy of this preferential treatment. His great holiness, love of souls, eloquence and many other qualities made him a man in whom one could place the greatest hopes. Untimely death tore this beloved son from Father de Mazenod's affections on January 31, 1829.